Allstate Arena | Rosemont, Illinois
A charismatic, consummate showman and international superstar, Michael Bublé comes to Allstate Arena on Saturday 20th July 2019 with his sixth concert tour – An Evening with Michael Bublé! The silky-smooth singer, whose classic style harks back to the traditional pop performers of yesteryear, is promoting 2018's Love, and he's keen to get back on the stage:
"I'm going to go back to what I was made to do. I'm going to come back to a world that needs love and romance and laughter more than it has in a long time. I'm going to be a conduit to that. This is the greatest record I've ever made."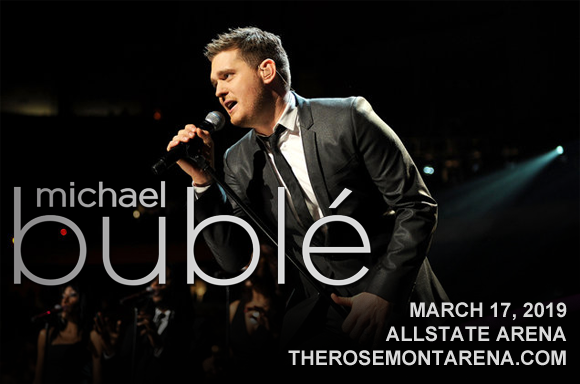 Canadian singer, songwriter, actor and record producer Michael Bublé is one of Canada's hottest exports, with over 75 million records sold worldwide since the release of his self-titled studio album in 2003, and four Grammy Awards and thirteen Juno Awards under his belt, among many others. After catching the eye of multi-Grammy Award-winning producer David Foster (Madonna, Brandy Norwood, Whitney Houston, Michael Jackson, Céline Dion, Barbra Streisand, Kenny G, Cher, Josh Groban, and Andrea Bocelli), Bublé released his eponymous debut studio album in 2003, reaching the top ten in Canada and the UK, but it was his 2005 album It's Time that brought him a worldwide audience, followed by 2007's Call Me Irresponsible, which reached number one on the Canadian Albums Chart, the UK Albums Chart, the US Billboard 200, the Australian ARIA Albums Chart and several European charts. Bublé's success as a chart-topping artist has continued over the years, and his tenth, and most recent, studio album is 2018's Love.