Allstate Arena | Rosemont, Illinois
Hallowed horror-punk pioneers Misfits will be performing in their original line-up at Allstate Arena on Saturday 27th April 2019! The iconic and previously tumultuous group have performed only a handful of shows since their 2016 that brought Danzig, Only and Doyle together for the first time in 33 years, and each time they take to the stage is something hair-raisingly special! The power trio will be joined by Fear, Venom Inc. and Power Trip in support!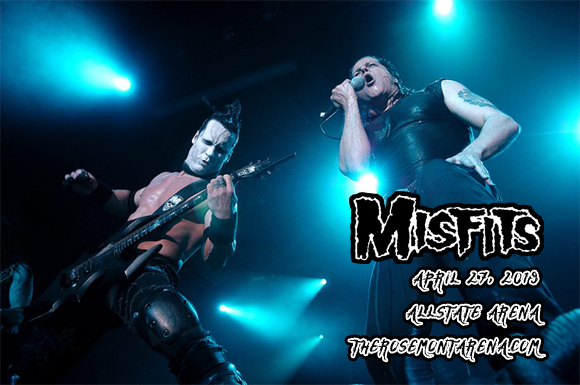 Often credited with pioneering the horror punk genre, Misfits are an American punk band from Lodi, New Jersey, formed by singer Glenn Danzig, bassist Jerry Only, and drummer Manny Martínez in 1977. Setting a precedent for the early-1980s hardcore punk movement with their albums Walk Among Us (1982) and Earth A.D./Wolfs Blood (1983), Misfits' influence has been noted by countless bands and artists. Over the years, Misfits encountered a number of line-up changes and legal battles, but in 2016 it was announced that Danzig, Only and Doyle would perform together as the Misfits for the first time in 33 years at two headlining shows. After the huge success of the reunion the band toured together once more in 2017.